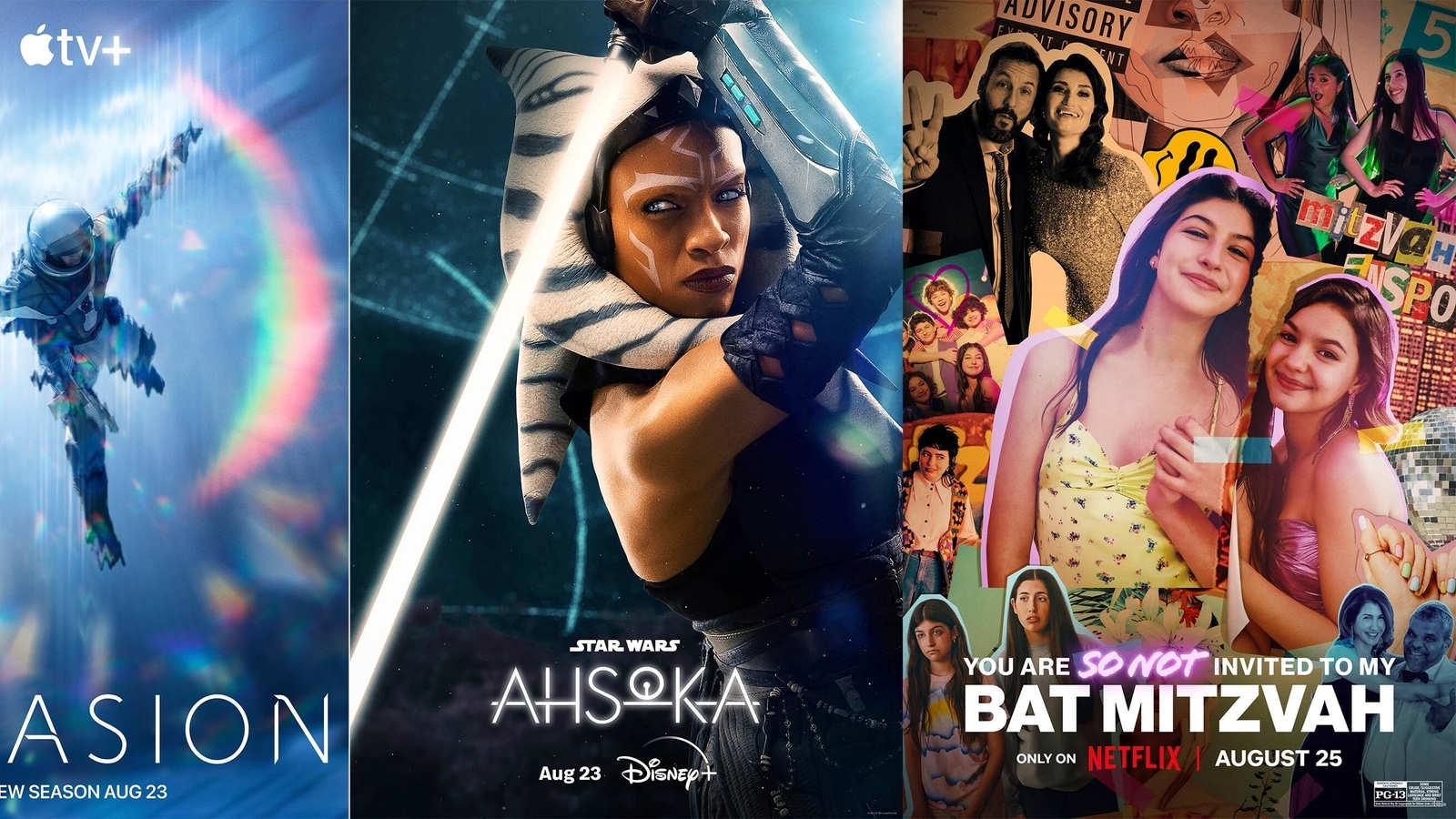 Tim McGraw roars back with "Standing Room Only" and the "Mandalorian" spin-off "Star Wars: Ahsoka" are among the new television, movies, music and games headed to a device near you.
Among the offerings worth your time as selected by The Associated Press' entertainment journalists are "The Eight Mountains," a soul-stirring Italian epic of male friendship, and the return of Adam Sandler in "You Are So Not Invited to My Bat Mitzvah."
NEW MOVIES TO STREAM
It would have been easy to dismiss "Dungeons and Dragons: Honor Among Thieves" as another tired Hollywood effort to parlay whatever unused IP it had lying around. Yet directors and co-writers Jonathan M. Goldstein and John Francis Daley, who helmed one of the better comedies in recent years ("Game Night"), turn "Honor Among Thieves" into a remarkably funny and refreshingly unserious fantasy adventure, led by comic performances by Chris Pine, Michelle Rodriguez and Hugh Grant. After playing in theaters this spring, "Honor Among Thieves" lands on Prime Video on Friday, Aug. 25. In her review, AP's Jocelyn Noveck said it works "surprisingly, sometimes delightfully well — even if you have no clue what a paladin or Red Wizard or Harper is."
The hills are alive in "The Eight Mountains," Belgian filmmakers Charlotte Vandermeersch and Felix van Groeningen's soul-stirring Italian epic of male friendship. The film, one of the best of the year, tracks the lives of two friends (Luca Marinelli, Alessandro Borghi) from childhood through adulthood in the Italian Alps. A mountain idyll is a pastoral dream to one, a humble livelihood to the other. The filmmakers, whose film took a prize at the Cannes Film Festival last year, is unhurried, letting time unfurl against a stunning Alpine backdrop and the fragile, organ-inflected folk songs of Daniel Norgren. Reviewing "The Eight Mountains," which begins streaming on the Criterion Channel on Tuesday, I wrote: "Vast and intimate at once, their luminously languid adaptation of Paolo Cognetti's bestseller reaches sublime heights."
Adam Sandler has long been known for making movies with his friends. Now it's his family's turn. "You Are So Not Invited to My Bat Mitzvah," which streams Friday, Aug. 25 on Netflix, stars Sunny Sandler, Adam's teenage daughter, as one of two friends (Samantha Lorraine plays the other) driven apart by a squabble over a boy. Adam, himself, co-stars as Sunny's father in the adaptation of Fiona Rosenbloom's 2005 YA novel. Sandler's wife, Jackie, and other daughter, Sadie, also co-star.
NEW MUSIC TO STREAM
Tim McGraw roars back with "Standing Room Only, " an album with the wistful title track, and "Hey Whiskey," which is almost a breakup song with booze. Another single, "Remember Me Well," is a look back at a love affair in which McGraw sings "If you're gonna forget me/Find someone else/If you're gonna remember me/ Remember me well." He says the songs are "some of the most emotional, thought-provoking, and life-affirming music I've ever recorded."
Alice Cooper welcomes you to a new album in a very Alice Cooper way. "I know you're looking for a real good time. So, let me introduce you to a friend of mine. I'm Alice. I'm the Master of Madness; the Sultan of Surprise," he sings in the first single, "I'm Alice." The rocker's new collection, Road" also includes "Welcome to the Show" and "White Line Frankenstein" featuring Tom Morello. His team says the new music "taps into the essence of his classic hits while offering a fresh and invigorating sound, bursting with energy from the first note."
NEW SERIES TO STREAM
The Jedi Ahsoka Tano was originally introduced in the 2008 animated film "Star Wars: The Clone Wars" and then returned in "The Mandalorian," played by Rosario Dawson. Now, Anakin Skywalker's former apprentice leads a "Mandalorian" spin-off called "Star Wars: Ahsoka." Ahsoka, a survivor of the Jedi purge, is investigating a threat to the galaxy after the fall of the Galactic Empire. Additional cast members include Natasha Liu Bordizzo, Mary Elizabeth Winstead, David Tennant and Lars Mikkelsen. The series debuts Wednesday on Disney .
If you want to stay in space, "Invasion" season 2 launches on Apple TV on Wednesday. The show, co-created by Simon Kinberg and David Weil, focuses on individuals across various continents whose lives are upended by the arrival of aliens on Earth. In season two, the aliens are getting more aggressive.
The life of an expat in Spain begins to unravel when a trip to a supermarket turns into a robbery and one of the robbers claims to recognize her. Might she have been living a double life? Evin Ahmad plays the titular character in her first English-speaking role. All seven episodes of Immortals of Aveum is simple: a first-person shooter with sorcery. Think something like Call of Duty, except instead of shooting bullets you're firing off magic bolts, missiles and bombs. The protagonist, Jak, has just discovered his occult gifts, and he's been recruited to fight in the millennia-long war between the two supernatural superpowers that run his world. Immortals comes from Ascendant Studios, a new production house founded by Call of Duty veteran Bret Robbins, and it's a bit of a rarity these days — a fresh single-player adventure that isn't just another sequel in a long-running franchise. You can start slinging spells Tuesday on PlayStation 5, Xbox X/S and PC.