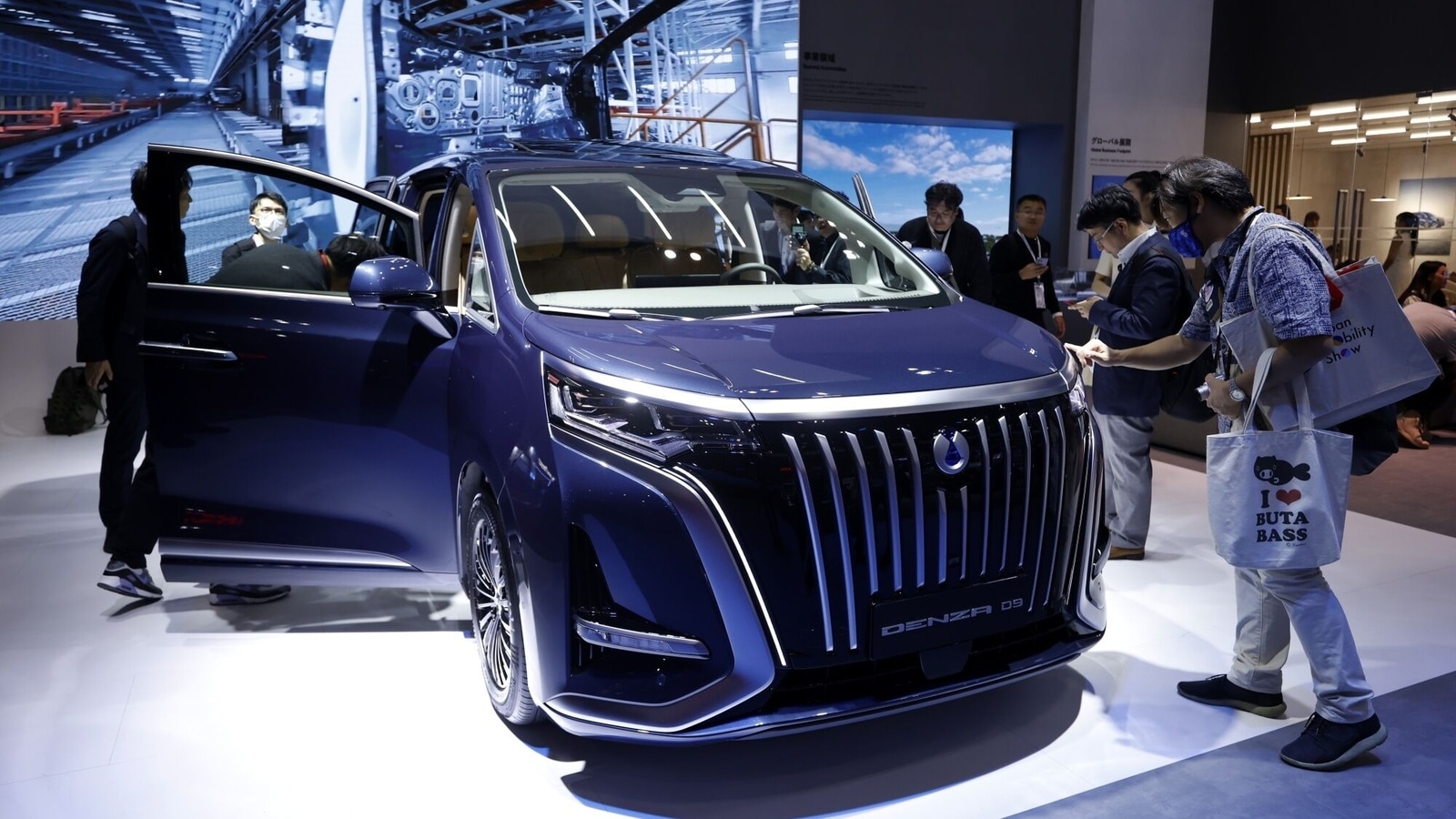 Even as the supercharged rally in Tesla Inc. cools on weaker sales growth, expectations are ramping up for China's top electric-vehicle maker BYD Co. thanks to record-high profits.
BYD is rapidly closing in on Tesla as the world's biggest seller of pure electric vehicles. Yet shares of Elon Musk's company are still up 68% this year, even with the recent pullback, far outpacing the 28% rise in BYD's Hong Kong-listed stock.
That could be poised to change. Traders have snapped up bullish options on BYD, while analysts have raised earnings-per-share projections for the Chinese company to a record high since its preliminary quarterly report this month. BYD posted all-time high sales despite intensifying competition and a broader slowdown in sales of China's new-energy cars.
We are now on WhatsApp. Click to join.
BYD Shares Jump on China EV Maker's Record Quarterly Profit
Musk cast a pall over the global EV sector with a grim outlook just one day later, saying rising interest rates in the US have hurt its sales. Tesla's results are also suffering from the months-long price war that it had initiated in an attempt to fuel demand.
The market is responding to the companies' diverging fortunes. BYD shares are up more than 1% this month while Tesla has plunged 17%, leading global peers lower. At the same time, earnings estimates have risen for the Chinese automaker and dropped for its larger US rival.
"BYD still looks like the safest bet versus Tesla in the short term given its discipline in terms of balancing volume growth with profitability," said Kevin Net, head of Asian equities at Tocqueville Finance. "It also has growing exposure to hybrids, which have been gaining market share in China and contribute to higher margins."
Tesla's Slowing Growth Is Sending a Warning to All EV Makers
BYD sold a record total of 822,094 vehicles in the latest quarter, including hybrids, helping to cement its lead as China's best-selling car brand. What particularly surprised industry observers is that BYD seems to be making more money per vehicle, despite price competition.
Profit per car, excluding the impact of the company's electronics unit, rose as much as 46% versus the previous quarter, according to JPMorgan Chase & Co. estimates. The analysts believe BYD can maintain its profitability into next year thanks to more sales of high-end vehicles as well as continued overseas expansion.
Tesla, EV Investors Face a Reckoning as Demand Starts to Crack
BYD is expected to start deliveries of its high-end Yangwang U8 and Fang Cheng Bao BAO 5 in the fourth quarter, according to pundits at HSBC Holdings PLC. Outside of China, BYD claims high shares in countries including Brazil, though tax and political considerations have kept it from entering the US passenger-car market.
The improving profit outlook has helped make BYD's stock more attractive, driving its forward earnings multiple down to about 18 times, compared with over 50 times for Tesla. Recent options data also look positive, as the volatility skew has shifted toward the more bullish side compared with a month ago.
While BYD has been backed by Warren Buffett, Berkshire Hathaway Inc.'s selling of shares since last year may have weighed down its share price. Other headwinds for the shares include the European Union's anti-subsidies probe into EVs made in China.
"There is definitely a heavy China discount on the stock, but I don't see it getting worse," said Taylor Ogan, chief executive officer of hedge fund Snow Bull Capital, which owns shares in both BYD and Tesla. "Investors will have to wake up to BYD next year when its two high-end brands begin deliveries, and it exports noticeably into new markets," he added.