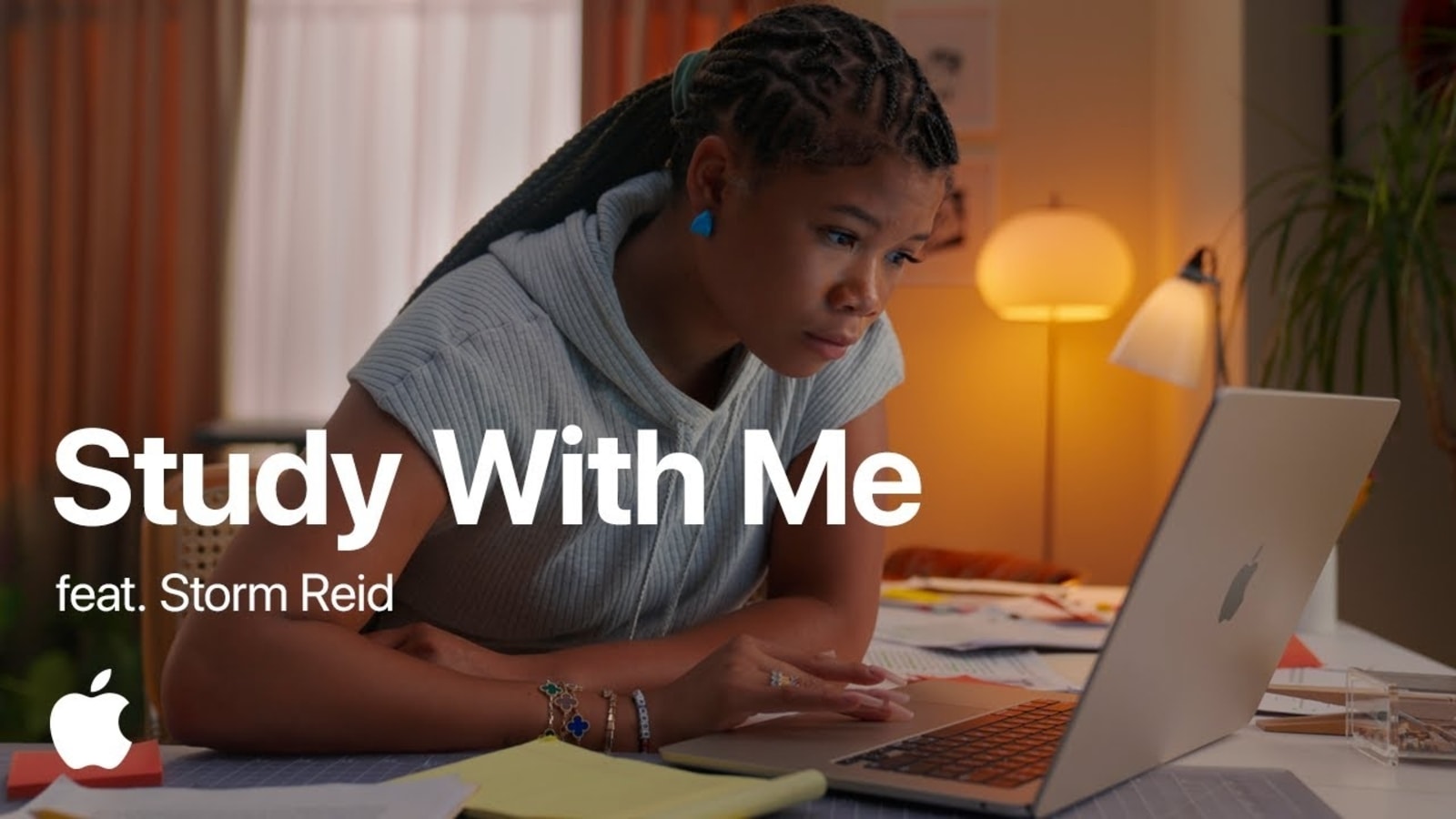 Yesterday, October 11, Apple released a new 90-minute-long YouTube 'Study with me' video featuring Emmy-nominated actress Storm Reid (The Last of Us, Euphoria, Missing). For those who are unaware, YouTube has a special niche of 'Study with me' videos where lengthy (30 minutes to 2-3 hours) videos are posted by creators who study in front of the camera to inspire others to study, complete their work, and tackle focus issues. In the new video, Reid can be seen studying on a 15-inch MacBook Air.
The video is titled 'Study With Me feat. Storm Reid x Apple' and you can watch it here. Apple stated, "90-minute Study With Me video featuring Storm Reid that's designed to keep you focused on studying and away from distractions. Storm uses the Pomodoro technique, with three 25-minute study sessions followed by fun 5-minute breaks that you can follow along with or use as inspiration for your own break time".
We are now on WhatsApp. Click to join.
Reid is currently attending the University of Southern California (USC), majoring in dramatic arts with a minor in African-American studies.
Apple releases 'Study with me' video, showcases the MacBook Air
In the video, Reid can be seen studying with the popular Pomodoro method to maximize focus and follows up a 25-minute work session with a 5-minute break. During her breaks, Reid can be seen enjoying a snack of taco shells, sardines, and hot sauce, as well as stretching next to a life-sized teddy bear. In her final break session, she can be seen breaking into a dance with others.
Speaking of the video, Reid said, "I'm excited to share this new 'Study With Me' video from Apple that we created as a tool for students to get work done. As a Junior at the University of Southern California — go Trojans! — I spend a lot of time studying, and I've found it's so important for me to balance work with music and movement".
This is the first time Apple has done a video like this, and while unique, YouTube is filled with similar videos, and they garner more than 5 million views sometimes. Apple's video has also crossed 317,000 views in just a day.
Apple also brings the focus to the 15-inch MacBook Air in the video. The laptop features a Liquid Retina display and the M2 chip and weighs just 3.3 pounds. It comes with features such as FaceTime, and continuity features like Handoff, AirDrop, Universal Clipboard, and Messages. Alongside Apple iPad and Apple Pencil can also be seen in the video. In case students want to purchase any Apple devices, Apple runs a year-long discount for students who are either currently enrolled or have just been accepted to a University.
One more thing! HT Tech is now on WhatsApp Channels! Follow us by clicking the link so you never miss any updates from the world of technology. Click here to join now!