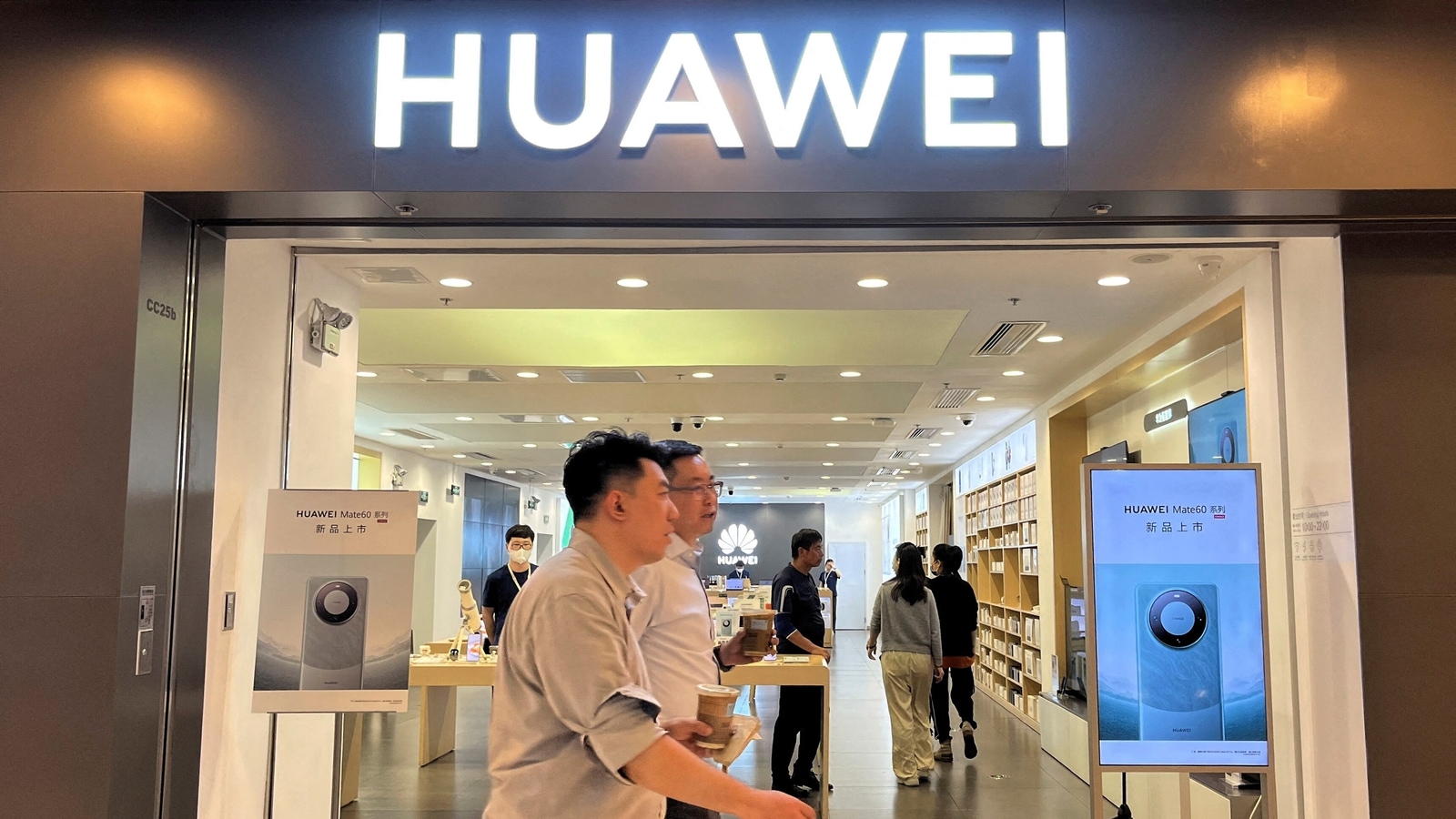 A new smartphone from Huawei Technologies Co. has reignited debate over chip technology and China's ability to skirt US-led curbs. In reality, last week's release of the Mate 60 Pro shows that the success of sanctions is painted in shades of grey, with the true impact yet to come.
High-performance and fast connection speeds indicate that the sleek new device is equipped with 5G wireless capabilities and an advanced system-on-chip processor manufactured by Shanghai-based Semiconductor Manufacturing International Corp. Testing by Bloomberg News shows the smartphone hitting speeds in excess of 350 megabits per second. That's akin to fifth-generation mobile standards and is on par with Apple Inc. 's iPhones.
The news spurred optimism in China that home-grown technology is catching up to foreign rivals, despite tighter rules on sales of semiconductors and manufacturing equipment to the country. "There is hope that Chinese companies will be able to tide over the US government's sanctions and restrictions on chip supply," the government-backed China Daily wrote.
Regulations announced by the US Commerce Department in October last year restrict the export of manufacturing tools that can churn out processors at 16 nanometers or below (smaller geometries are more advanced). Allies, including major equipment exporters Japan and the Netherlands, agreed to follow these rules.
Neither Huawei or SMIC have publicized specifications for the chip inside the Mate 60 Pro. Yet the size and performance of the processor means it was almost certainly made by SMIC at 7nm or better, Dylan Patel, founder of semiconductor researcher SemiAnalysis told me this week.
Tests conducted in July last year by Canadian researcher TechInsights on an earlier chip, the MinerVA7 Bitcoin Miner, a simpler processor used for cryptocurrency mining, showed SMIC had achieved 7nm. The latest chip is the Kirin 9000s, developed by Huawei affiliate HiSilicon, according to a teardown by TechInsights this week. HiSilicon lists this chip as being made at the superior 5nm node, though Bloomberg News reports that it was made at SMIC's most advanced 7nm process.(1)
This makes the latest development evolutionary rather than revolutionary, so the celebrations in Beijing and hand-wringing in Washington are both premature.
"It's a breakthrough, but not unexpected. SMIC already showed it could make simpler chips at 7nm, and this is an advancement on that previous work," Patel said. Such progress is feasible because older tools, nominally designed to make lesser chips, are still capable of making more advanced semiconductors, Patel said.
A variety of innovative techniques can be deployed to shrink the connections beyond what might be theoretically possible. The most common approach, called multi-patterning, was first conceived 40 years ago and is even used by global leader Taiwan Semiconductor Manufacturing Co. Instead of exposing a slice of silicon to light just once in order to mark out the circuit design, this step is done many times. SMIC, like TSMC before it, can achieve 7nm by running this lithography step four times or more, Patel said.
There is a downside. This increases the number of tools required — four sets instead of one — raising the cost and slowing manufacturing throughput. Yet such extra expenses are marginal, and can be ameliorated by efficiently managing the production process.
The bigger implication is that the restrictions, as they're spelt out by the Commerce Department's Bureau of Industry and Security, don't match their purported goal. The US administration has in effect written rules to curb the means (the equipment), but defined them by the ends (the final product).
This is like banning jet engines capable of reaching 100 knots, without recognizing that an aircraft manufacturer could just add four engines instead of one in order to provide greater thrust and higher speeds. Sure, four engines may be overkill, inefficient and expensive, but when the ends justify the means a sanctioned actor will get innovative.
The other gap in this regulatory fence is that equipment is still being shipped. Dutch export curbs, which apply to key equipment supplier ASML Holding NV, took effect on Sept. 1. The Veldhoven-based company has a license to send three more advanced tools — using deep ultraviolet technology — to China by the end of the year. It doesn't expect to get permission to ship more of that equipment from next year, it said.
Policymakers need to be patient before deciding whether the equipment curbs really work. It's possible the current restrictions will still allow Chinese companies to get to 5nm, though they'll still trail leaders TSMC, Samsung Electronics Co. and Intel Corp. by many years. By comparison, TSMC started shipping at 7nm five years ago, and this year is producing chips at what it calls N3E, which is far more advanced than what SMIC appears to have achieved with its chip for Huawei.
It's highly unlikely Chinese chipmakers can squeeze more out of old tools to get them beyond 5nm, which means they'll be stuck while foreign rivals continue to advance. And if they do make further breakthroughs, the US and its allies have plenty of ways to tighten up their curbs, including broadening the scope of the equipment ban and adding materials to the list.
For now, though, Beijing has found a way to sidestep foreign chip restrictions. The celebration is well deserved, but might not last.
More From Bloomberg Opinion:
China Painted Itself Into a Semiconductor Corner: Tim Culpan
Xi Needs to Act on the Economy to Avoid Mao's Fate: Minxin Pei
China's Downturn Could Save the World: David Fickling
(1) The Kirin was originally expected to be made by TSMC at 5nm, but US curbs may have forced TSMC to deny the order resulting in the chip being made by SMIC at 7nm.