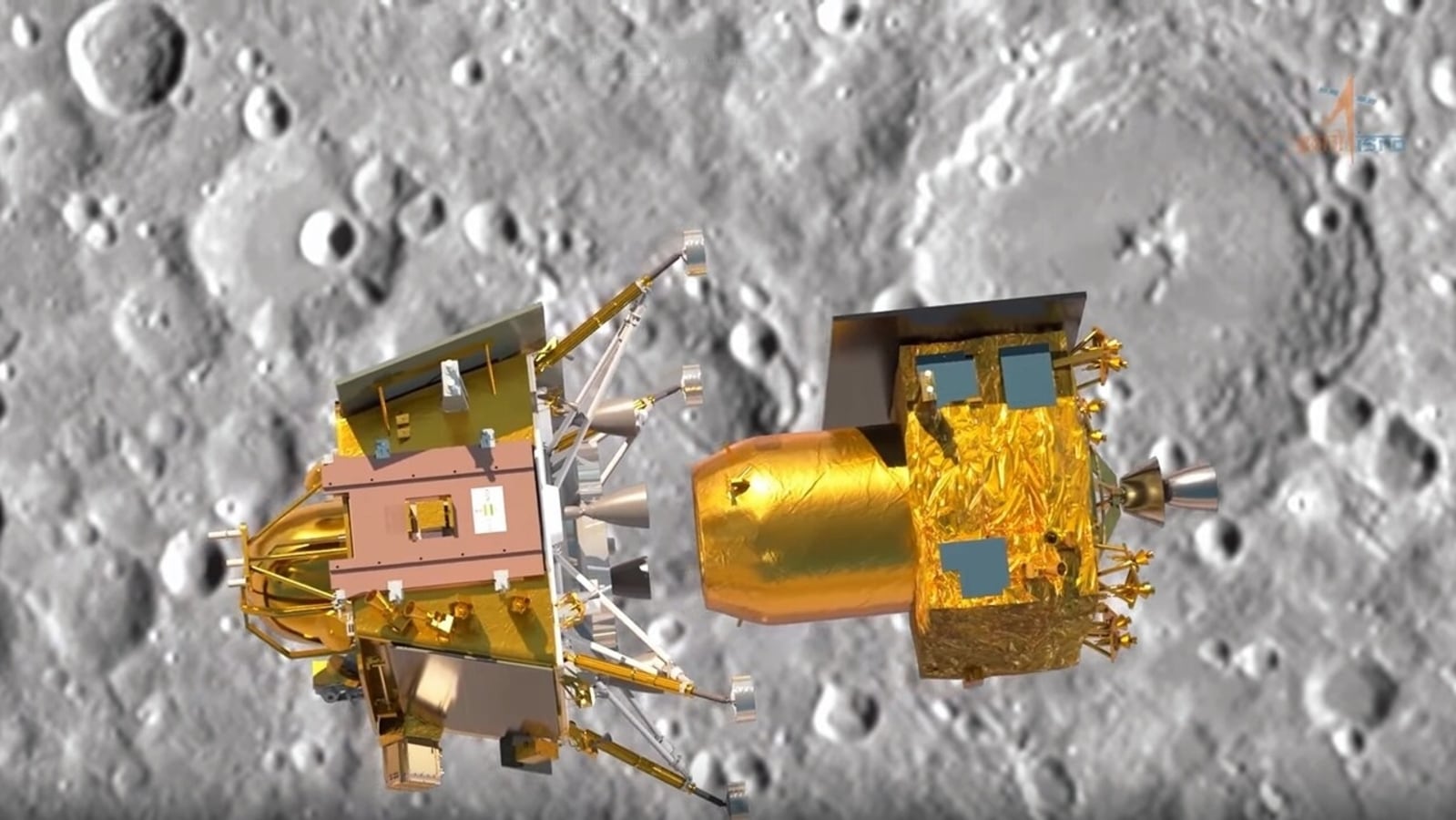 Chandrayaan-3 Moon Landing Live Updates: The nation is now waiting in hopes of witnessing the Indian Space Research Organization (ISRO) making history by successfully landing the Vikram Lander on the south pole of the Moon, bringing the 40-day space journey to a successful end. Successor to the Chandrayaan-2 mission (2019) where the Lander Module unfortunately crashed due to a malfunction
…Read More
PM Modi to watch the the Moon landing
Prime Minister Narendra Modi is currently in Johannesburg, South Africa, for the 15th BRICS summit. However, according to reports, he has cleared his schedule to virtually watch the Moon landing via live streams. 
Chandrayaan-3 Moon Landing Live Stream details
You can start watching the live broadcast at 5:20 pm (IST) on Wednesday. You'll be able to see the landing action on the ISRO website, their YouTube channel, Facebook, and DD National TV starting at 5:27 pm (IST) on August 23.
Before the landing, you can also check out videos and photos sent by cameras on the LVM3-M4 and pictures taken by the Lander cameras.
Pragyan rover's journey after landing
The rover will get two weeks (one lunar cycle) to study the atmosphere of the Moon. The Pragyan rover is solar-powered and can only communicate with the Lander. Vikram Lander, on the other hand, can communicate with Earth directly and share all the data. As an emergency backup, the Chandrayaan-2 orbiter can also be used for communication.
What happens after the lunar landing
If the Chandrayaan-3 mission is able to successfully land on the Moon, the Vikram Lander will open up on one side, creating a ramp for the Pragyan rover. Pragyan rover, which has the tricolor and ISRO logo on it, will move out of the lander after a period of 4 hours. Moving at a speed of 1 cm per second, it will use its navigation cameras to scan the surface of the Moon. Its main objective is to collect data on the composition structure of the Moon's atmosphere. On the other hand, Vikram Lander will also be collecting data on near-surface plasma, density, thermal properties, seismicity, and structural composition of the Moon's crust and mantle.
Chandrayaan-3 components
The Chandrayaan-3 spacecraft has three components — a lander (Vikram), a rover (Pragyan), and a propulsion module. The lander and rover separated from the propulsion module on August 17 and commenced their descent toward the lunar surface. Meanwhile, the propulsion module will stay in orbit for months and years, and carry out its own series of experiments. Recently, the Lander Module (LM) of Chandrayaan-3 made contact with the orbiter or propulsion module of Chandrayaan-2, establishing two-way communication.
Chandrayaan-3 to land today
The Vikram Lander of the Chandrayaan-3 mission is expected to land on the south pole of the Moon at 6:04 PM IST, August 23. It will have a 17-minute-long descent from its pre-landing orbit that it currently is placed in. The command to begin its descent will be given from ISRO's Telemetry Tracking and Command Centre (ISTRAC) in Bengaluru at 5:47 PM.