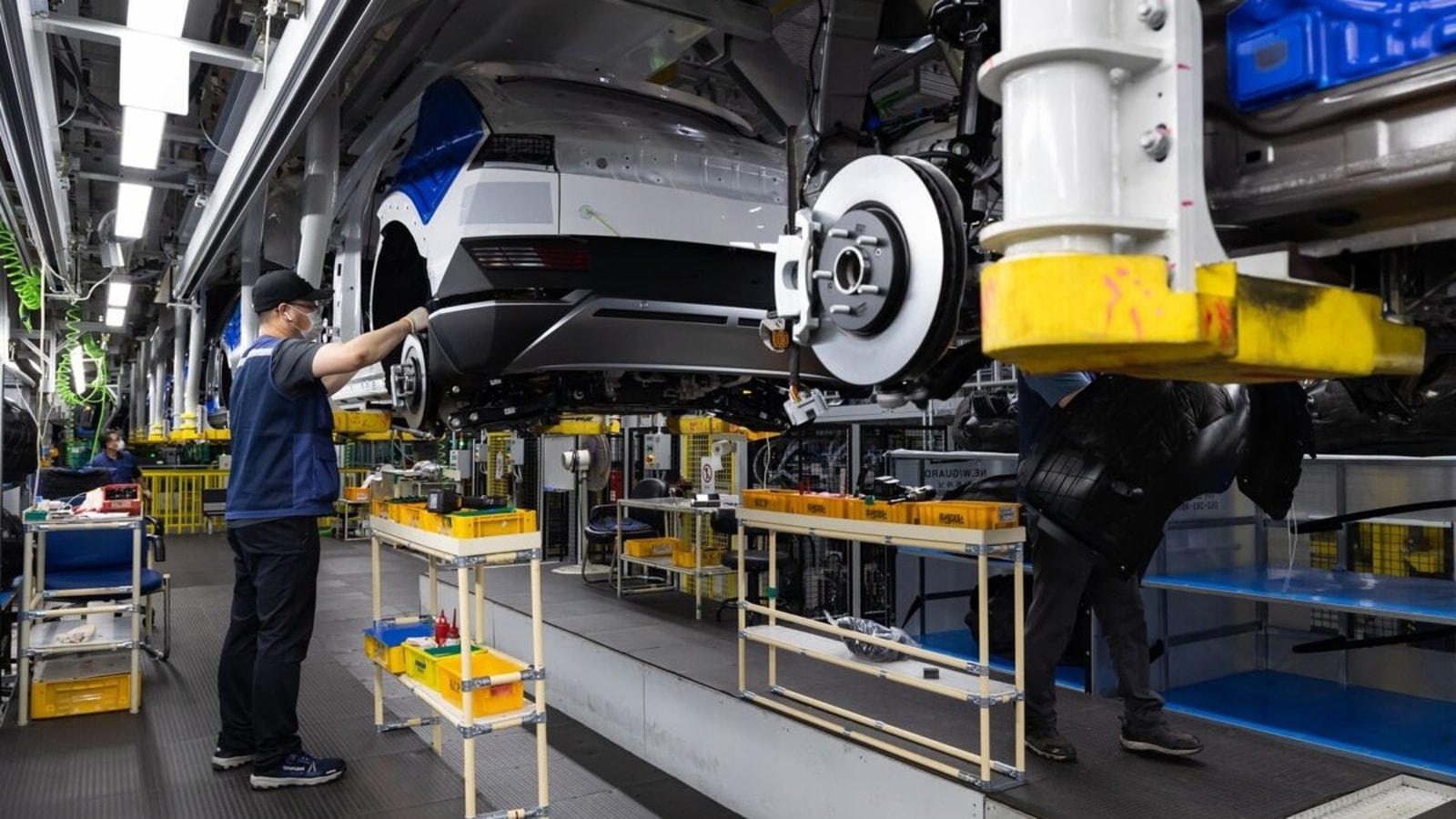 The world's auto industry is accelerating in two directions at once. Unless those contradictions are resolved, carmakers risk running themselves off the road.
In China and Europe, the transition to electric vehicles is gathering pace. Battery-powered autos made up nearly a quarter of sales in both markets in August, according to Morgan Stanley, with plug-in hybrids lifting the total share to 38% and 28%, respectively.
Things look very different in the US and India, where penetration is struggling to break north of 10%, and in Japan, where it's on life support at 3%. Honda Motor Co. said last week it was dropping plans to build a sub-$30,000 EV with General Motors Co., while GM and Ford Motor Co. and have pushed back targets for boosting sales of battery vehicles. Even Elon Musk has been talking down the prospects that Tesla Inc.'s Cybertruck will ramp up volumes any time soon.
We are now on WhatsApp. Click to join.
You might think a switch away from money-losing electric cars toward the gas-guzzling SUVs and pickups that people are still prepared to pay for was just the tonic for the industry. Price-earnings multiples for carmakers are typically in the low single-digits these days (the S&P 500 is on a far more robust 17.6). Ford, meanwhile, just agreed a 25% wage hike with striking auto workers that will put further pressure on margins and raise the prospects of similar inflation-busting deals at its US rivals. Maybe industry executives could wake up and discover the march of EVs was all a dream?
If only it were so simple. What the industry is getting may be the worst of both worlds: a global market bifurcated between one set of countries rushing to decarbonize, and a second where the electric revolution is looking shaky. That means it will spend longer paying to develop separate gasoline and electric drive-trains, rather than making a clean switch from one to the other.
Making and improving automotive product lines is a horrendously expensive business. Volkswagen AG and Toyota Motor Corp. dedicate more money to capital spending than Exxon Mobil Corp., Walmart Inc. and Intel Corp., with BYD Co. not far behind. Retooling factories with self-propelled assembly lines and gigapresses designed for electric cars is a once-in-a-century transformation that's inevitably costly. Ford last year put a $50 billion, five-year price tag on growing its EV division — enough to eat up nearly two-thirds of its capex budget, as well as tens of billions to be spent on acquisitions and engineering.
That doesn't leave a lot of money for conventional internal combustion engines. Indeed, one reason that conventional vehicles are so profitable at the moment is precisely that investment in them is being wound down. Product lines are getting simplified and R&D pared back, in recognition that sales of non-electric cars are heading to zero in major markets in not much more than a decade. That reduces the cost base and lifts profit margins — but if the transition to EVs gets delayed, money would have to flow back to prevent the product offering becoming stale.
This explains carmakers' negative reaction to British Prime Minister Rishi Sunak, who this month pushed the country's ban on conventional cars back from 2030 to 2035. Far from welcoming the announcement, Ford, Kia Corp., Nissan Motor Co., Stellantis NV and Volkswagen complained it introduced uncertainty and made it harder for them to coordinate international supply chains.
If you think Sunak's U-turn was chaotic, the current two-speed market is even more treacherous. Try sketching out a nine-figure, multi-year spending budget in the face of unanswerable questions about consumer choice, charging infrastructure, and fuel-economy regulation, across multiple jurisdictions. The biggest US and Chinese automakers at least have the good fortune to be heavily concentrated in their home markets. Everyone else has to be riding multiple horses at once.
Things are likely to get worse before they get better. EVs are competing on price with conventional cars in China right now, while margins at EV-maker BYD are already in line with those at comparable gasoline-powered marques, according to Bloomberg Intelligence's Joanna Chen and Steve Man. In other countries, however, BloombergNEF sees a range of dates for parity ranging from 2025 to 2031. That's two three-year product cycles where in even a best-case scenario consumer tastes — and investment priorities — will remain split between one world that's switching to electric, and another that's clinging to gas.
Turning back isn't an option — but auto executives are going to have to wade through a lot more red ink over the years ahead.