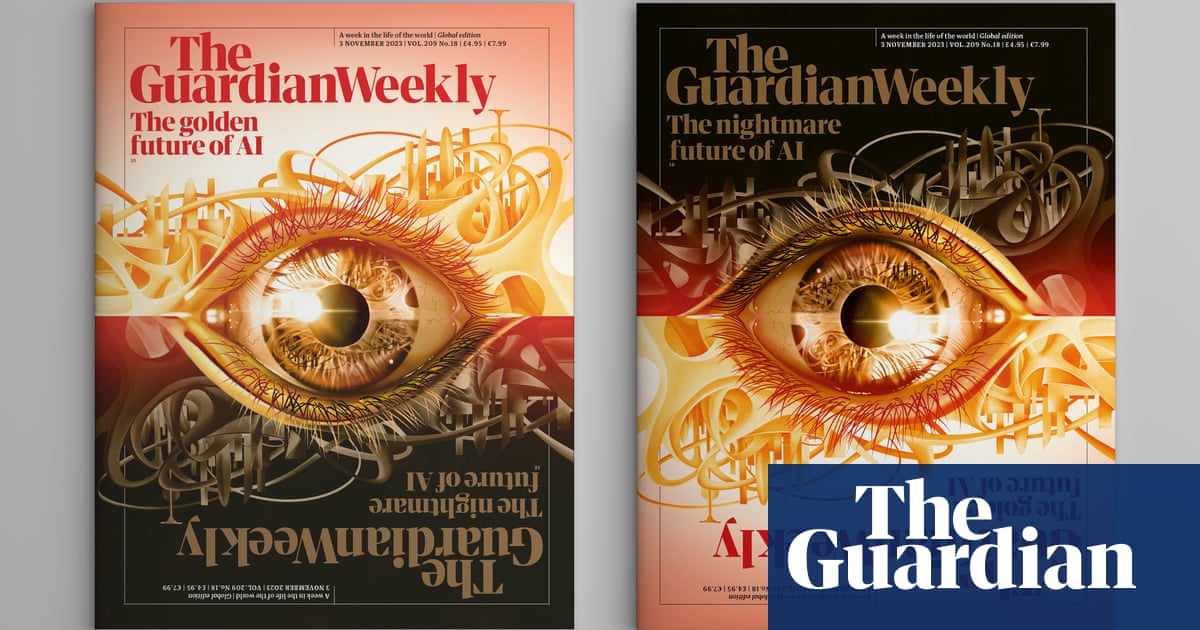 Bletchley Park was the main centre of allied second world war codebreakers,and it's no coincidence that the English country house was chosen as the venue for this week's landmark summit on safety in artificial intelligence. The age of AI brings opportunities but also significant risks, as a number of experts in the field outlined in an open letter last week.
Deena So'Oteh's clever flip cover for this week's Guardian Weekly magazine neatly illustrates the dilemma. "I cannot help but think that we as a society are at a crossroads," Deena says of her design, "and the way our future will unfold will greatly depend on what morals we anchor it to."
Global technology editor Dan Milmo discusses the pros and cons with one of the technology's leading thinkers, Demis Hassabis, the CEO of Google DeepMind, who says the rise of AI must be thought of as seriously as the climate crisis. Then, Observer columnist Sonia Sodha argues that calling for AI to be reined in is not simply a sign of luddism.
As Israeli forces entered Gaza this week,Bethan McKernan and Rory Carroll report for us on the increasingly unbearable nature of life in the besieged enclave, and there's expert analysis and commentary from Julian Borger, Peter Beaumont and Jason Burke.
One of our long reads this week is from the northern English city of Sheffield, where the council's plan to fell urban trees met with fierce resistance from local people and led to an astonishingly vitriolic standoff between politicians and residents, as Samira Shackle reports.
Another highlight is Tshepo Mokoena's remarkably candid interview with Caster Semenya, the South African Olympic gold medal-winning athlete whose elevated testosterone levels led people to question her right to compete.
London jazz-fusion band Ezra Collectivehave been the talk of the music world lately. In the Culture section, Joe Mulhall catches up with the Mercury winners as they play a legendary venue in Lagos.
Finally, you know the northern hemisphere seasons are changing when it's time for Tim Dowling's tortoise to come in from the cold – not that it's a particularly willing participant in the process …
Get the Guardian Weekly magazine delivered to your home address