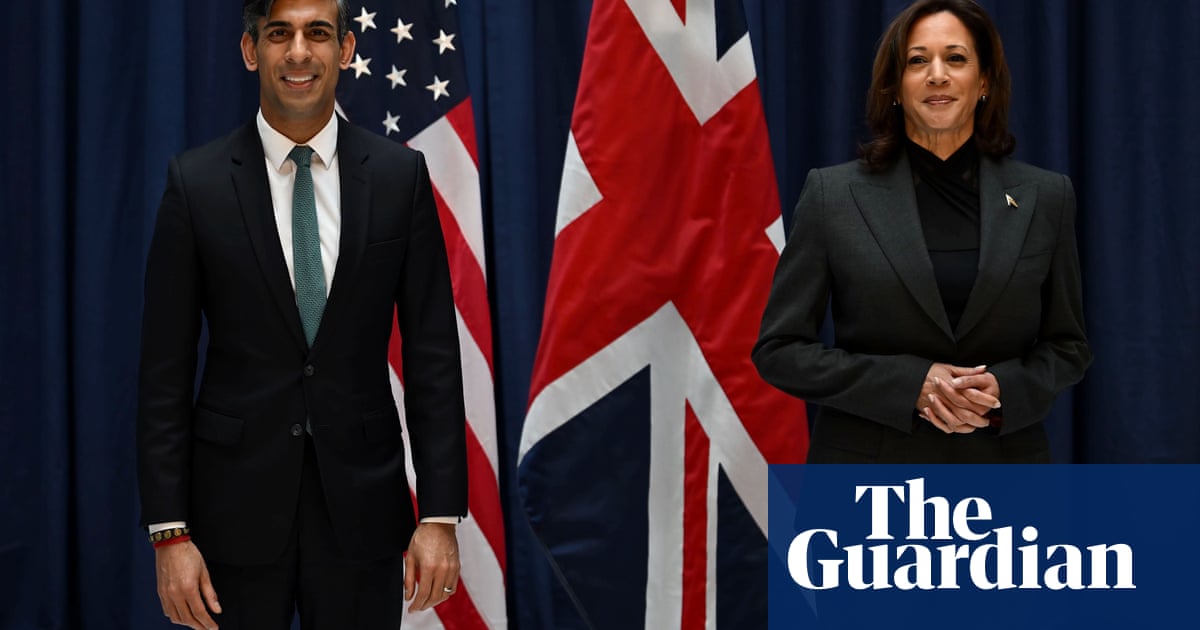 Downing Street has insisted Rishi Sunak is not being snubbed by other world leaders, despite many of them not being expected to attend his summit on artificial intelligence at Bletchley Park this week.
No 10 said the government was pleased with the responses it had had to invitations to the summit, which Sunak announced earlier this year as he strives to put the UK at the forefront of international AI regulation.
But the prime minister is likely to be joined by relatively few of his international counterparts, with many sending more junior ministers or officials instead.
Among those who have chosen not to attend are Joe Biden, the US president who is sending Kamala Harris, the vice-president, instead, and Emmanuel Macron, the French president.
Justin Trudeau, the Canadian prime minister, is sending his science minister, François-Philippe Champagne, although may attend the second day virtually, sources have said. Olaf Scholz, the German chancellor, is widely reported not to be attending either.
The most prominent politicians currently expected to be at the summit are Ursula von der Leyen, the president of the European Commission, and Giorgia Meloni, the Italian prime minister.
Speaking two days before the summit starts, a Downing Street spokesperson said: "We remain confident that we have brought together the right group of world experts in the AI space – leading businesses and indeed, world leaders and representatives who will be able to take on this vital issue.
They added: "This is the first AI safety summit of its kind. I think it is a significant achievement that for the first time, people from across the world and indeed from across the range of world leaders, and indeed AI experts, are coming together to look at these frontier risks."
Those in attendance at Bletchley Park on Wednesday will join two days of discussions about the existential risks that many in the industry believeAI poses to all of humanity.
Sunak announced the conference this summer after becoming concerned that advanced AI models were being developed without any oversight from global regulators. Some in the industry believe that if models become significantly more intelligent than people they may decide to eliminate humans entirely.
With just days to go until the start of the summit, however, the attendance list is still being worked on.
Sunak confirmed last week his officials had invited China to attend the summit, saying: "It is right to try and engage with the world's leading AI powers."
But with Beijing still not having confirmed who, if anyone, from the Chinese government will travel to the summit, UK officials have reportedly decided to upgrade the invitation and address it directly to Xi Jinping, the president.
Xi is not expected to attend, but British diplomats believe that inviting him personally will indicate how keen they are for China to send high-level officials.
Sunak's spokesperson said on Monday: "I'm not going to get into the ins and outs of the invite list. I think we've always sought to have the right level of representation, of course … It's important to invite China given they too are world leaders in AI."
As officials prepared for the summit, ministers have launched a flurry of new announcements on AI.
They included £2m for researchers to develop AI tools for teachers, £16m to collect more health data for diagnostic AI and a request by the policing minister, Chris Philp, for police to make greater use of facial recognition tools.
Meanwhile Suella Braverman, the home secretary, held a meeting with technology companies including TikTok and Snapchat about combating AI-generated child sex abuse material, while the health secretary, Steve Barclay, met NHS trusts to talk about boosting AI in healthcare.