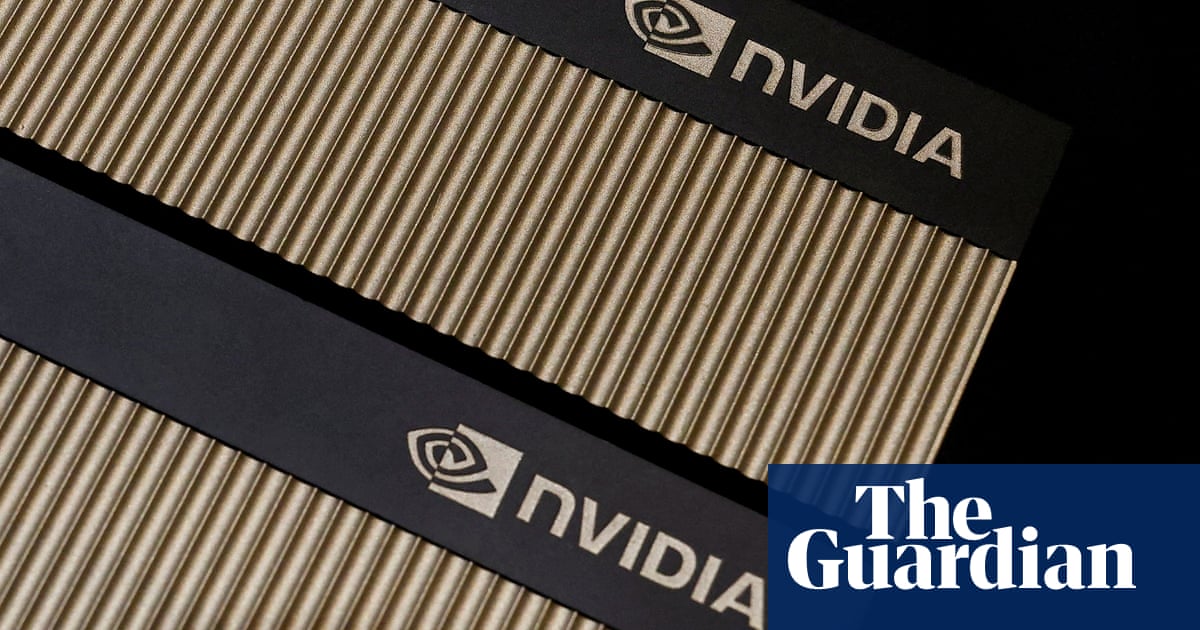 The chipmaker Nvidia has far surpassed quarterly expectations, raking in $13.5bn in revenue – over $2bn more than the $11.2bn Wall Street analysts had predicted – amid skyrocketing demand for its computer chips that power artificial intelligence (AI) systems.
The blockbuster second quarter comes at a moment of intense hype around generative AI, a mood that Nvidia has been uniquely positioned to capture. The 30-year-old company is one of the biggest winners in the AI boom and is now valued at over $1tn, with its chips powering nearly all the world's major artificial intelligence apps, including ChatGPT.
Unlike some of its competitorssuch asIntel, Micron Technologies and Advance Micro Devices (AMD), Nvidia has dedicated a significant portion of its investment and development efforts on chips that can power AI systems,rather than solely investing in angling for market share in spaces with existing demands, such as data centers.
Generative AI systems require enormous computational power, which in turn requires specialized chips that can perform specific tasks and calculations. The high demand has caused a shortage of these chips, and the supply that does exist has been bought up by a few major entities and countries, including Saudi Arabia and the United Arab Emirates, according to the Financial Times.
That shortage has been a boon for Nvidia. Few firms have had as much experience in developing these specialized chips as the Santa Clara, California-based company, which got its start in 1993 making a name for itself as the manufacturer of computer chips to power video games.
"A new computing era has begun. Companies worldwide are transitioning from general-purpose to accelerated computing and generative AI," said Jensen Huang, founder and CEO of Nvidia, in a press release about the second quarter earnings.
Shares of the company rose 6.3% in trading after the bell, after hitting an all-time high the day before in anticipation of its earnings report.
Overall, the company's share prices have tripled this year. The company became the first chipmaker to be valued at $1tn at the end of May after riding the windfall from the sudden adoption of generative AI, as investors bet that Nvidia would be a key beneficiary. The company also announced it would buy back $25bn in stock.
Wedbush analysts said Nvidia is "the purest and best barometer for AI demand".
"We view these results and guidance as a historical moment for the tech sector speaking the tidal wave of AI spending now on the horizon over the coming years," the Wedbush industry note read. The results were a "'drop the mic' moment in our opinion that will have a ripple impact for the tech space", said Daniel Ives, an analyst at Wedbush.
However, the demand has caused some supply constraints at Nvidia. The company outsources its manufacturing to Taiwan Semiconductor Manufacturing. Analysts have estimated that demand for Nvidia's prized AI chips is exceeding supply by at least 50%, adding that the imbalance will stay in place for the next several quarters. The company has increased its spending on long-term supplies resulting in $11bn in purchase commitments, its chief financial officer, Colette Kress, said on the company earnings call.
skip past newsletter promotion
Sign up to Business Today
Get set for the working day – we'll point you to all the business news and analysis you need every morning
Privacy Notice: Newsletters may contain info about charities, online ads, and content funded by outside parties. For more information see our Privacy Policy. We use Google reCaptcha to protect our website and the Google Privacy Policy and Terms of Service apply.
after newsletter promotion
"Our supply partners have been exceptional in ramping capacity to support our data center supply chain," Kress said.
A wave of entities – from AI startups to major cloud services providers like Microsoft – are in a race to get their hands on more Nvidia chips. Demand from China is also in overdrive, with companies there placing rush orders to stockpile chips before any further US export curbs come into action.
"Its Q2 results underscore its dominant position in harnessing the AI momentum," said Insider Intelligence senior analyst Jacob Bourne. "Yet as global appetite for Nvidia's chips intensifies, navigating supply chain hurdles to boost production is essential."
Reuters contributed reporting