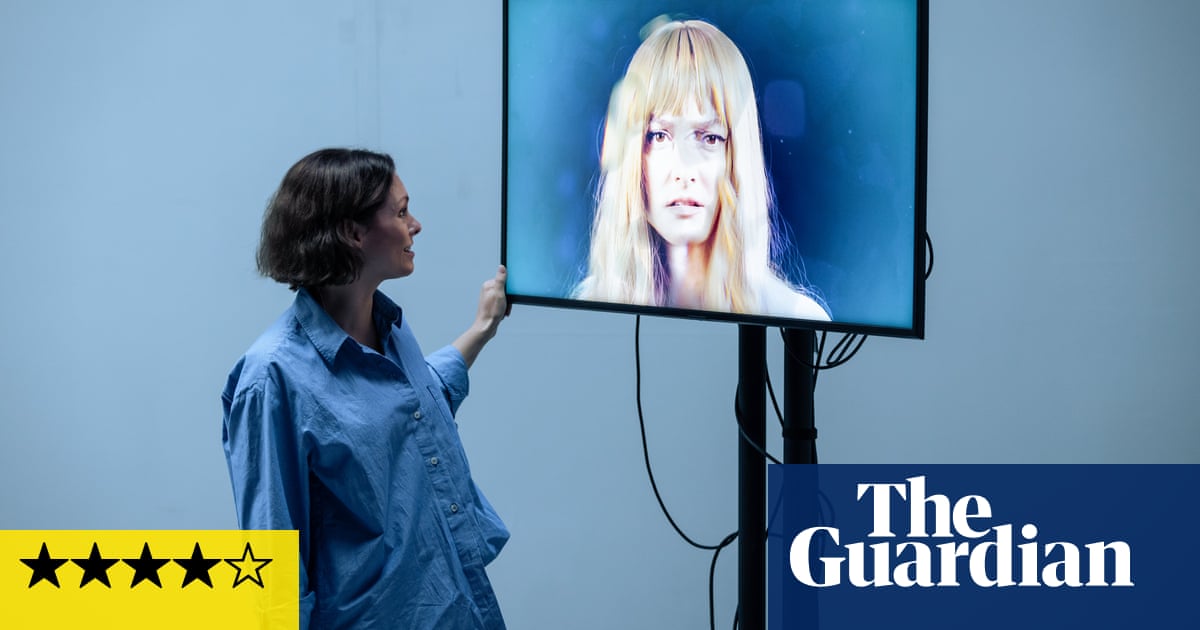 While screenwriters strike, partly over the threat from artificial intelligence, playwrights are busy writing about AI. Lauren Gunderson's Anthropology is the second world premiere in a week featuring pseudo-humanity – after Alan Ayckbourn's Constant Companions – and the third such London play in six months, following Jordan Harrison's Marjorie Prime and Andrew Stein's Disruption. (Hermione Lee's biography of Tom Stoppard intriguingly reveals that he began but abandoned an AI play before writing Leopoldstadt.)
Gunderson, an American whose I and You was a 2018 Hampstead success, creates Merril, a software engineer, whose sister Angie has been missing for a year after failing to reach home one night. From the phone, laptop and online footprint the young woman left behind, Merril sculpts a virtual Angie. The early scenes are a Merril duologue with a disembodied voice, like a digital Krapp's Last Tape, but Gunderson and director Anna Ledwich sensibly open up this closed circuit so that we see three, or by some counts four, others.
All writers of fiction about AI should lay grateful flowers on the grave of Mary Shelley, who effectively anticipated the science and invented the genre in 1818 with Frankenstein. In the early scenes of Anthropology, we begin tensely to expect that "Angie" will become threateningly independent.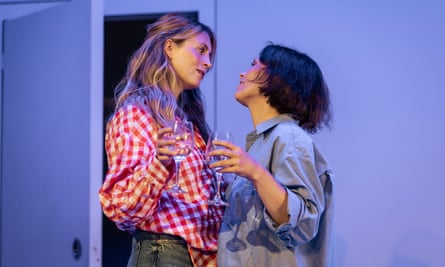 Yolanda Kettle, left, and MyAnna Buring in Anthropology. Photograph: The Other Richard
As in Disruption, the question of whether texts have been sent by a person or algorithm is vital and the play overlaps with Marjorie Prime in exploring whether avatars of the departed are a healing or creepy response to bereavement. Enhancing its commercial potential in theatre and perhaps cinema, anthology, this sharp play about the rewards and risk of science also has a satisfying suspense element, as Merril programmes "Angie" to solve "her" disappearance from the digital trail of the last day.
MyAnna Buring, as Merril, viscerally suggests the hope and pain of someone wielding very new technology against ancient human agonies. Dakota Blue Richards, in the trickily divided role of Angie, is alternately all too human and all too not. Abigail Thaw as the women's mother and Yolanda Kettle as Merril's on-off lover, though embodying subplots, achieve a very high impact-to-lines ratio. They represent sceptical and positive responses to the resurrection tech, though it is clear their attitudes are shaped as much by life-experience as objectivity. Crucially, no chatbot could surely ever write anything as original and compelling as a play that makes a powerful case for human writing intelligence.