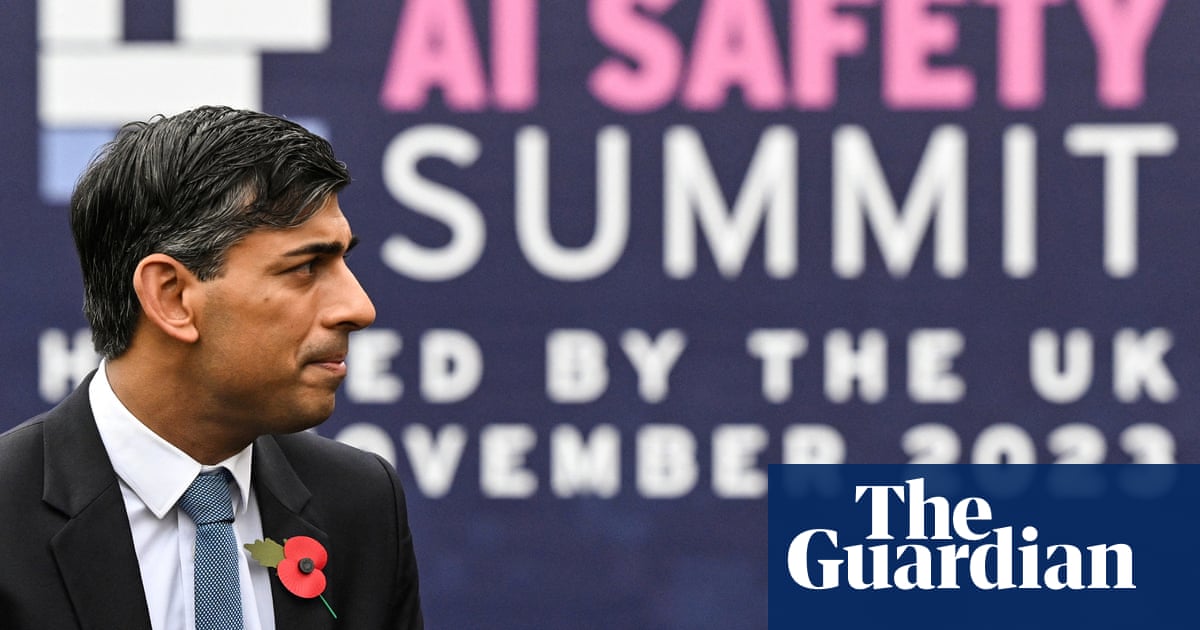 Artificial intelligence could pose a risk to humanity on the scale of a pandemic or nuclear war, Rishi Sunak has warned as world leaders gather at Bletchley Park to discuss how to regulate the industry.
The prime minister said he was concerned about the risk posed to the public by advanced AI models, echoing recent warnings by some of the industry's most senior figures.
Sunak is hoping to secure agreement from governments, including the US, EU, Japan and Canada, on how countries can work together to test the safety of AI tools before they are released.
Sunak told reporters: "People developing this technology themselves have raised the risk that AI may pose and it's important to not be alarmist about this. There's debate about this topic. People in the industry themselves don't agree and we can't be certain.
"But there is a case to believe that it may pose a risk on a scale like pandemics and nuclear war, and that's why, as leaders, we have a responsibility to act to take the steps to protect people, and that's exactly what we're doing."
His words echo those of the Elon Musk, with whom he is due to host a conversation on Thursday night, to be broadcast on the technology billionaire's social media platform X.
Musk told reporters at the summit on Wednesday that AI was "one of the biggest threats to humanity".
The prime minister arrived at Bletchley Park on Thursday morning for a second day of intense diplomatic activity at the international AI safety summit.
British officials were delighted to be able to issue a communique at the beginning of the summit, signed by 28 governments including the UK, US, EU and China. The so-called Bletchley declaration promised that the signatories would work together on shared safety standards in a process officials likened to the Cop summits on the climate crisis.
Sunak's attempts to position the UK as the world leader in developing new AI rules were partly overshadowed on Wednesday by an announcement by the US commerce secretary, Gina Raimondo, of a new AI Safety Institute in Washington.
However, British officials say they expect to work closely with the new US institute and others to create a "network" of similar organisations that can do testing around the world. Officials say they are likely to reveal further details about how such a network will operate on Thursday.
Sunak will meet Kamala Harris, the US vice-president, at the summit on Thursday and will host discussions involving Ursula von der Leyen, the president of the European Commission, and Georgia Meloni, the Italian prime minister. Leaders from other countries including Japan and Canada are expected to join remotely.
Sunak will then return to London for his conversation with Musk.
The prime minister defended his decision to host Musk and allow the conversation to be broadcast on one of his platforms. Speaking to the BBC on Wednesday he said: "Elon Musk has both been an investor and a developer of AI technologies himself. But for over a decade he has been also talking about the potential risks they pose and the need for countries and companies to work together to manage and mitigate against those risks.
"So he's someone who obviously has got something valuable to add to the conversation."