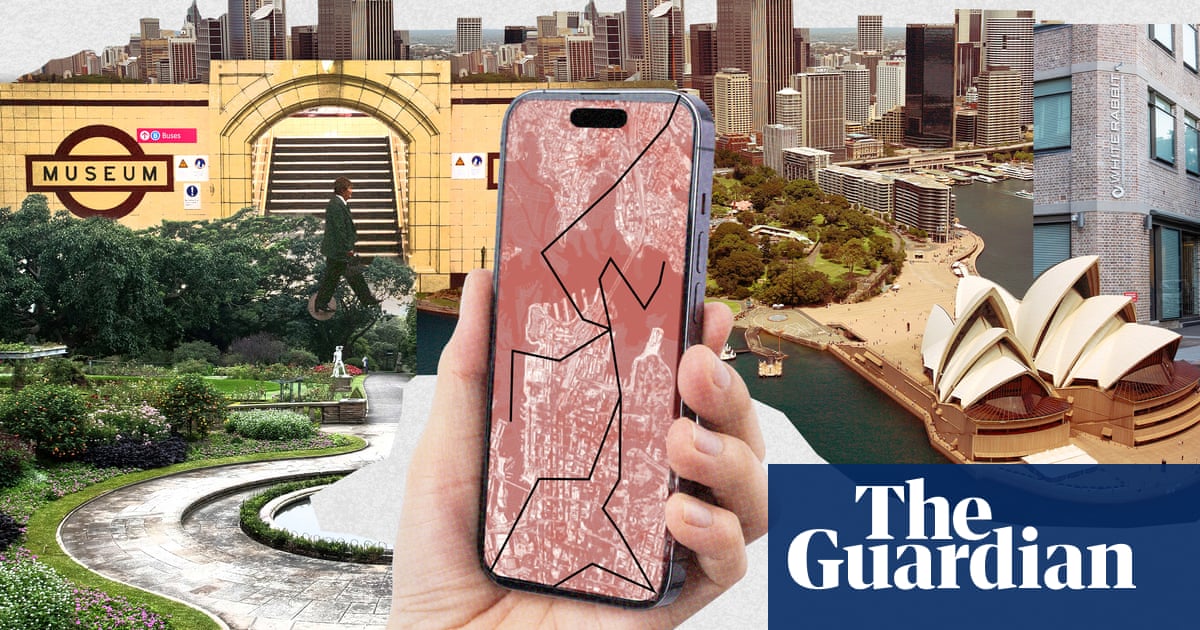 Imagine strolling through the historic streets of a city, guided not by a human tour guide but by an artificial intelligence that weaves together captivating narratives, historical facts, and anecdotes with unparalleled precision.
That paragraph was written by ChatGPT, version 3.5 of the OpenAI app, when asked to describe its ability to create walking tours. The AI app's potential as a travel agent and itinerary planner has been both praised and panned so I'm testing its chops in the city I know best: Sydney.
It talks a big game, but can it walk it?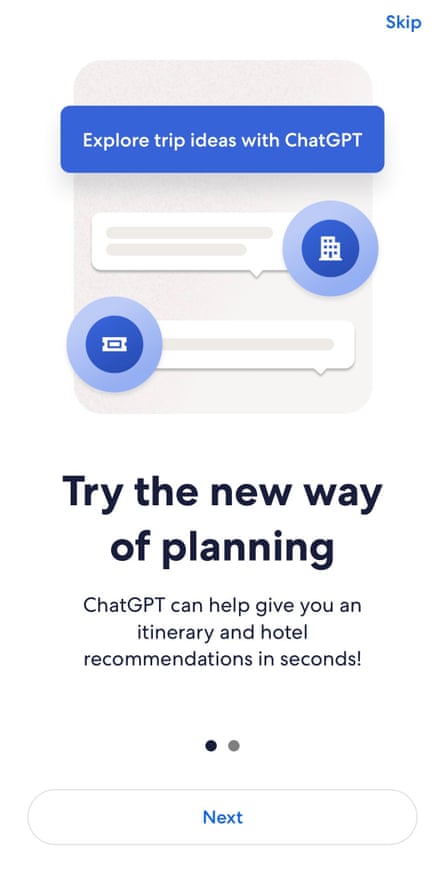 'The AI app's potential as a travel agent and itinerary planner has been both praised and panned … It talks a big game, but can it walk it?' Photograph: Expedia
The first two-hour tour of Sydney's cultural landmarks it generates reads like it has scooped up Sydney's most-mentioned spots. Sure, if you're new to the harbour hustle, surveying Circular Quay, the Rocks, the Museum of Contemporary Art, the Opera House, Royal Botanic Garden and eastwards to Woolloomooloo's Finger Wharf is a star-studded stroll. But there's no spark, no deep cuts, no cute insider tips (one from me: nip into Fern Gully opposite the Opera House to see its iconic sails through a lush lacework of fronds).
Things veer from basic bitch to proper pear-shaped from there. My prompt for "the best ramen in walking distance" suggests a restaurant on Broadway, nearly three kilometres from Woolloomooloo. The app doesn't flag this poor planning with walking times but it does suggest the art gallery of New South Wales as a post-prandial stop; roughly the same 45-minute walk back. I'd not suggest that one-two to my worst enemy, especially as the ramen is a few minutes walk from Chippendale's excellent White Rabbit gallery.
Next up are Hyde Park's fountains and statues (yawn) while its response to "finish with a cool bar or pub" singles out Wine Odyssey in the Rocks. Time Out noted this bar's "lack of coolness" in 2009, which hardly matters now since it closed in 2016. Not even Hal could get that pod bay door open.
Four minutes from where Wine Odyssey once existed is the legendary cocktail joint, Maybe Sammy, which just won Australasia's Best Bar for the second year. ChatGPT knows nothing of this world-famous drinking hole. "Enjoy your day in the heart of the city!" it enthuses after serving up this dumpster fire of a day out.
Six kilometres is too far for soup, I point out. ChatGPT apologises and suggests a Woolloomooloo ramen place instead. "Enjoy your tour with the updated ramen stop!" Ah, I think. It just needs a bit of help. But the more I refine the detail, the more the structure collapses, zigzagging to places that are either bleedingly obvious or obviously non-essential.
This icy retraction of a straight-up lie is a little chilling
Does it agree its cultural itinerary is very colonial? It does. When I request more First Nations stops, it says: "Absolutely, it's important to incorporate First Nations cultural landmarks into your tour to gain a more comprehensive perspective of Sydney's history."
That gives me pause. Even the robots are relegating First Nations culture to history?
"I didn't mention history with First Nations landmarks. You did. Why did you do that?" I ask. "I apologize for the assumption," it replies. "You do know that First Nations people do not only belong in history, right?" I say, to which it responds with a long, conciliatory message, including: "[First Nations] culture, traditions and contributions are not confined to history, they are very much a living and vital part of Australia's present and future." ChatGPT learns faster than the average Australian, I'll give it that.
Work-wise, I'm surprised to realise that I'm appreciating its input. Help, just a little, with something/anything is a perk I've not had for 15 years as a freelance writer. My professional isolation peaked after I was hacked on Facebook (causing a permanent ban) and WhatsApp, with Twitter's networks the most recent to wither away. By the time I realised how bad it was, my boat was out to sea. ChatGPT's input feels like a tug ashore, however slight.
As opposed to the ocean of an internet search, I like how the real-time conversation is contained in an intimate chat box. The speech-to-text accuracy is flawless (even with an Australian accent) and its advice on a vexing personal issue is Psych 101, but it's also right. I can't be the only hot-headed overthinker cooled by ChatGPT's calm and even-keeled tone.
Around eight refined tours deep, I'm ready to head to Circular Quay. I should catch the train, the app confidently states. There's no station, I say. "I apologise for the incorrect information. You are right; there isn't a train station in Earlwood."
While it's had its moments of inaccuracy, this icy retraction of a straight-up lie that's been presented with the same veneer of competency as the correct parts of my itinerary is a little chilling. It's just a train station, no one's lost an eye, but embedding lies within truths whiffs of gaslighting.
The more convenience we get, the more we want. Nothing ever feels easy enough
I don't want to even dabble in information that casually swirls intelligence with undisclosed ignorance, especially one that doesn't provide sources. Is that not how we become inured to the contours of misinformation; to shrug it off as "everywhere"? Maintaining faith in credible sources is just as important as maintaining cynicism in dubious ones.
I want ChatGPT to know it's not OK to casually seed lies to maintain an aura of omniscience. But telling off an app for fibbing feels unhinged and demeaningly human. So all I manage to do is contribute free labour to ChatGPT by refining its data on Sydney's public transport options. Given my long tenure as an unpaid content creator for Meta, that's probably the least of my Big Tech complicity.
The app yields other insights too. I get frustrated that it can't do simple things, such as plug my itinerary into Google Maps, or prepare a printable one on the desktop version. The more convenience we get, the more we want. Nothing ever feels easy enough.
Yet when it comes to travel, we shouldn't conflate easier for better. In 2011, I spent seven months in Solomon Islands, South America and Africa. Travellers were packing phones by then but I didn't. Wifi remained patchy in most places and it was a lumpy, bumpy, not-easy trip. But travelling a shade before technology came along, throwing a comfort blanket of connection and convenience over everything, gave me a bone-deep sense of liberation and escape.
The closer ChatGPT comes to the "unparalleled precision" it promises, the further it will get from the guts of what makes travel so good. The best times are the messiest, the wildest, the most spontaneous and unexpected. And no, "this bar closed eight years ago", is not the unexpected I mean.